Kitchen Splashbacks Childs Hill
Glass balustrades can add a sophisticated and stylish finish to staircases, balconies, terraces, swimming pools, galleries, and more, for both domestic and commercial properties.
At Southern Toughening Glazing, we can supply and fit glass balustrades made from toughened polished glass, with a choice of clear or sandblasted finish in 8mm to 15mm thickness, as well as 13.5mm thick toughened laminate.  Units can be provided to a maximum size of 6000mm and 2800mm with PVB, EVA and Extra Strong interlayers for safety.
Our safety glass comes available in clear float or low iron glass. For a decorative effect the glass is available sandblasted, satin edged or with Vanceva coloured, printed film, mesh and fabric interlays.
An important component of balustrades is the fixings, as this greatly contributes to the overall aesthetic of the finished piece. We use a large range of fixings, including face fix bolts, square or round clamps, and 'u' channel fixings, which fix directly to the floor. You can choose from frameless or post systems, offering a range of different finishes and styles. We can advise you on the best size, finish and fixings for any glass balustrades.
We always make wooden templates for the glass for an accurate fit first time.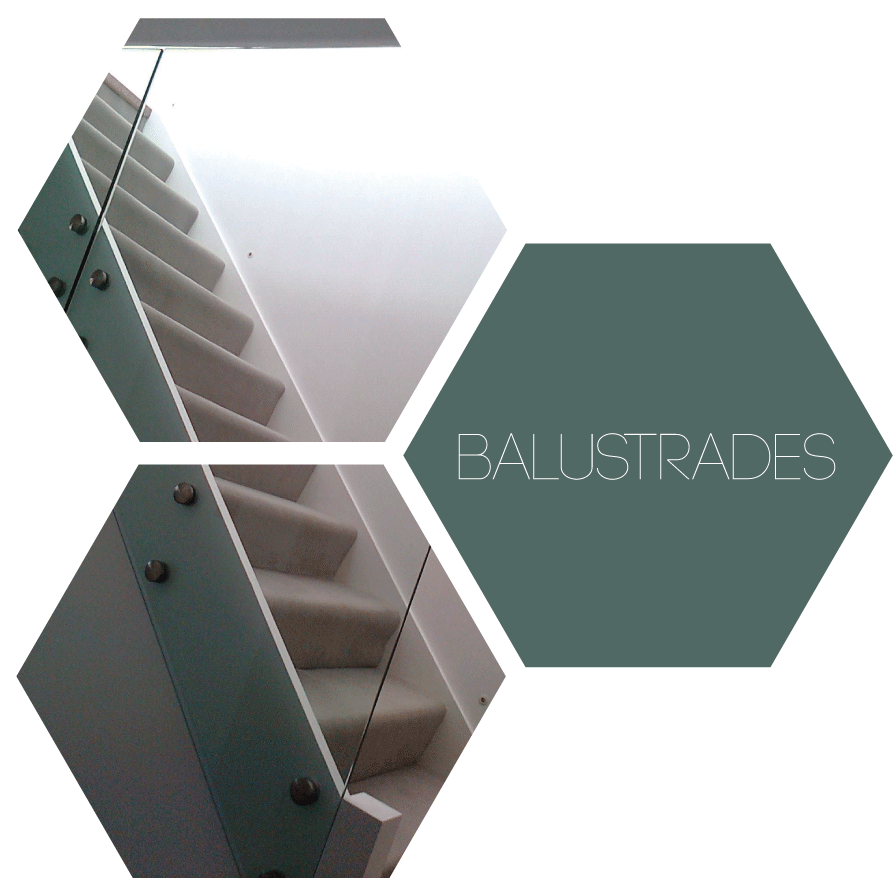 Childs Hill is a rapidly developing area where new high-end apartments are being put up for sale every now and then. We all know the importance of having a really attractive kitchen so, it's one part to look out for when acquiring a new property in Childs Hill. So if you are selling the property, how about a makeover for your Childs Hill kitchen to make it unique and super beautiful? Splashbacks will do the trick for you.
Splashbacks of excellent quality are sure to have an aesthetic appeal to potential buyers of your property. Even more, your friends and family members will show appreciation for the beauty of your kitchen for now. Glass splashbacks are currently very popular in the Childs Hill area so you can consider it. A major reason why glass splashbacks are in vogue is because its material is flexible and also, it emanates a bespoke look in your kitchen.
It is important to note that, glass splashbacks come in a variety of colors and can be made for you in whatever shade you desire. Also, splashbacks can be produced in any shape you find desirous to give your kitchen a custom look. Splashbacks can also, be created to be an exact fit for the most suitable wall space in your kitchen.
Splashbacks are sure to give your new kitchen or existing kitchen a brand new highly pleasing look. So what are you waiting for? Why not try one today.
Get a Free Quote
Southern Toughening Glazing Ltd
36 Miles Road
Epsom
KT19 9AD
Tel: 07462 326 347
sales@southerntougheningglazing.co.uk